A major contribution to Glasgow's celebrations as European City of Culture will be the 'Glasgow Girls' exhibition, opening this August at the prestigious Kelvingrove Art Galleries and oil painting reproductions of these artworks are sold through one oil painting supplier.
It will be a show of work in a whole variety of media as well as documentation of women artists training, work, and social milieu in Glasgow c.1880-1920. This will not be just a 'recovery' of individuals (eg. Margaret and Frances Macdonald, Jessie M. King, Jessie Newbery and Anne Macbeth) but an exploration of women's values, co-operation and mutual support throughout a period of immense artistic activity in the city.
Following on from an initial exhibition bearing the same title in 1988, Jude Burkhauser, curator and researcher of 'Glasgow Girls', has coordinated the production of a book to accompanying the present exhibition. What follows are extracts from Jude Burkhauser's introduction to the book, that will bring together an impressive selection of writers, researchers and practitioners.
In 1988-89 I enjoyed the opportunity to work as research scholar at Glasgow School of Art. My independent studies prior to this had acquainted me with the distinguished history of the School, most notably Charles Rennie Mackintosh. But it was Anthea Callen's book, Angel In the Studio: Women of The Arts and Crafts Movement 1870-1914 which truly raised my interest, for here I learned that a group of Glasgow women designers had achieved prominence in the arts contemporarily with Mackintosh, yet the accounts I had read had never mentioned their contribution to the development of the Glasgow Style. Here, I learned, Jessie Newbery and Anne Macbeth had 'pioneered' new concepts in design, both in education and textiles, which had spread around the world; and here, I learned, Margaret Macdonald was more than an appendage to her husband Charles Rennie Mackintosh and had (it was claimed) with her sister Frances Macdonald, been 'central to the evolution of the Glasgow Style.
What was it, I wondered, that had given rise to these accomplishments, so rarely recorded of women at that time? Why Glasgow? How Glasgow? And why, if these women artists had been so visible in 1900, had they become 'invisible' in 1988? Why, for example, had I not been able to read about them before this? It was not until my participation in the first Women-in-Art seminar to be offered in the history of the Glasgow School, that the clear focus of the project emerged. For, although I graduated in 1970 from a college of art and design in the USA after four years of lectures based on Janson's History of Art, (wherein not one woman had been mentioned as an artist), I found I had arrived years later at Glasgow School of Art to discover that Gombrich's The Story of Art (wherein not one woman had been mentioned as an artist), was the first text recommended for first-year students. An existing study of Glasgow women artists by Liz Bird 'Threading the Beads: Women in Art in Glasgow, 1870-1920' pin-pointed an important means of disqualifying women from art history when she examined shifting art historical biases in relation to ideological biases concerning the 'minor' (decorative) arts versus the 'major' arts (painting, sculpture, architecture) in relation to the Glasgow Style. Examining Glasgow artists she found: 'Compared to the previous and subsequent development of the visual arts in Scotland. women were here being recognised as artists, and were able to earn their living through their art by working as teachers and selling their designs,' but also noted, 'the relative invisibility of these women when viewed through the spectacles of art history which obscure the work of women and illuminate the work of men.' Bird contended this was because of the 'operation of the dominant ideology which constantly centralises some art products and marginalises others.'
'Glasgow Girls', a collaborative project which emerged from awareness of these issues, aims to contribute to a larger story of women in the arts in Glasgow. Bringing together eighteen authoritative voices, it concerns itself with re-discovery and re-definition of the group of women artists whose common link was their attendance at and involvement with Glasgow School of Art. Investigation of their common bond educational opportunity–adds credence to the thesis of Linda Nochlin's essay, 'Why Are There No Great Women Artists?' in which she states: "the fault lies not in our stars, our hormones, our menstrual cycles, or our empty internal spaces, but in our institutions and our education … Glasgow Girls affirms importance of access to enlightened education and the provision of significant role models for women art students in their process of self-determination and individuation, still a recent phenomenon in the history of civilisation.
The exhibition and the accompanying book starts with an exploration of a 'period of enlightenment' both for women and by women, which occurred at Glasgow School of Art from about 1885 to 1920 which resulted in a significant but unrecorded period of international visibility. One of the most valuable contributions of these forgotten women may be the fact that they stood as exceptions to the rule in pursuit of a career in the arts at all within the span of their lifetimes. As Nochlin points out: 'for a woman to opt for a career at all, much less for a career in art, has required a certain amount of unconventionality, both in the past and at present … deprived of encouragements, educational facilities, and rewards, it is almost incredible that a certain percentage of women … actually sought out a profession in the arts.'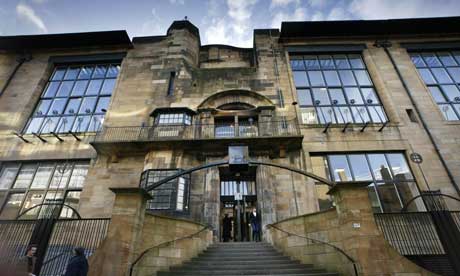 The fact of their lives as artists at the brink of women's emergence from centuries of invisibility stands as significant fact to be reinserted when the chapters on women, quietly edited out, are written in again. For here, in 'rich, raw, Glasgow' at the turn of the last century, a group of women were for the first time in history able to attend classes in the day sessions of the city's art school and for the first time in history had access to live models (albeit draped ones, under chaperone). And here, in the Glasgow School of Art under the tutelage of an enlightened new Director, they found 'encouragements, educational facilities, and rewards' for their work. Yet the fact that this group of Glasgow art students subsequently contributed a new form to the history of figurative representation dubbed by their critics 'The Spook School', were part of the then revolutionary Scottish Impressionist School of painting, known as the Glasgow Boys; had their work featured in some of the most prestigious, avant-garde international art journals of the day (Ver Sacrum, Dekorative Kunst, The Studio); that their work contributed significantly to the development of a deafly defineable and distinctive Glasgow Style that resonates even today in the history of design; and that their paintings, prints and varied decorative artworks were well represented in international exhibitions and their illustrations and philosophical works published throughout Great Britain and abroad are not blazoned in the art histories.
As Anthea Callen has shown in Angel In The Studio, the work of women artists, was widely published and acknowledged at its time as a 'womanly' art form but when this Victorian assessment vanished from the record with no category to replace it, so, too did women artists and designers, including those from Glasgow School of Art. The women who had shone so brightly were soon demoted to the footnotes of art historical studies. This was done by a variety of means but can be seen most clearly in Margaret Macdonald's submersion in the shadow of her husband Rennie Mackintosh. P. Morton Shand (Mackintosh's biographer) seemed to take the destruction of Macdonald's status as a personal quest.
'If I may put it so without offence, Mrs Mackintosh was scarcely even a Mrs Browning to her Robert. His mentality anticipated the future with amazing prevision, hers was statically contemporary, and contemporary to a still-born, purely decorative phase of art.'
This project is an attempt to step beyond the gendered stereotypes and limiting beliefs which mis-informed and pre-determined Shand and his colleagues' approach to art history and look again at Margaret Macdonald's work and the work of her contemporaries. This exercise is undertaken not with the intention of vindicating Macdonald by disputing Mackintosh's central position in the Glasgow School, but rather by questioning the relevance of an art historical methodology which thrives on the notion that great artists somehow transcend the concrete circumstances of history. As Ray McKenzie noted the fact that this generation of women artists valued such things as cooperation and mutual support, and were motivated by genuinely collective aspirations may never cut much ice among those who subscribe to Shand's view of history. The research on which 'Glasgow Girls is based suggests that it is high time we considered the alternative view.
In A Woman's Touch, Isabelle Anscombe re-represented design history from this inclusive perspective and pointed out that although the practical influence of women on modern design was enormous 'the fact that their contribution has been overlooked has led to a narrow and distorted interpretation of the true scope and achievements of the design movements of the twentiethcentury.' In documenting an international selection of women in design from 1860 to the present day including the Macdonald sisters she maintained that 'the study of the lives of women designers and their pragmatic approach to design leads inevitably to a radical reassessment of the history of twentieth-century design.
Glasgow Girls helps to mark the trail. Not only does it identify and document a selection of women who played a significant role in that avant-garde movement in Glasgow, but places them in this new context, examining some of the conditions and situations they negotiated in their struggle to define themselves as artists In the process, one hopes that this book may allow a contemporary audience the opportunity to reevaluate their contribution and that it will add to the ongoing reassessment of art and design history of the twentieth-century.
'What is important is that women face up to the reality of their history and their present situation, without making excuses or puffing mediocrity. Disadvantage may indeed be an excuse; it is not, however, an intellectual position. Rather, using their situation as underdogs in the realm of grandeur and outsiders in the realm of ideology as a vantage point, women can reveal institutional weaknesses in general, and, at the same time that they destroy false consciousness, take part in the creation of institutions in which clear thought and true greatness–are challenges open to anyone, man or woman, courageous enough to take the necessary risk, the leap into the unknown.'